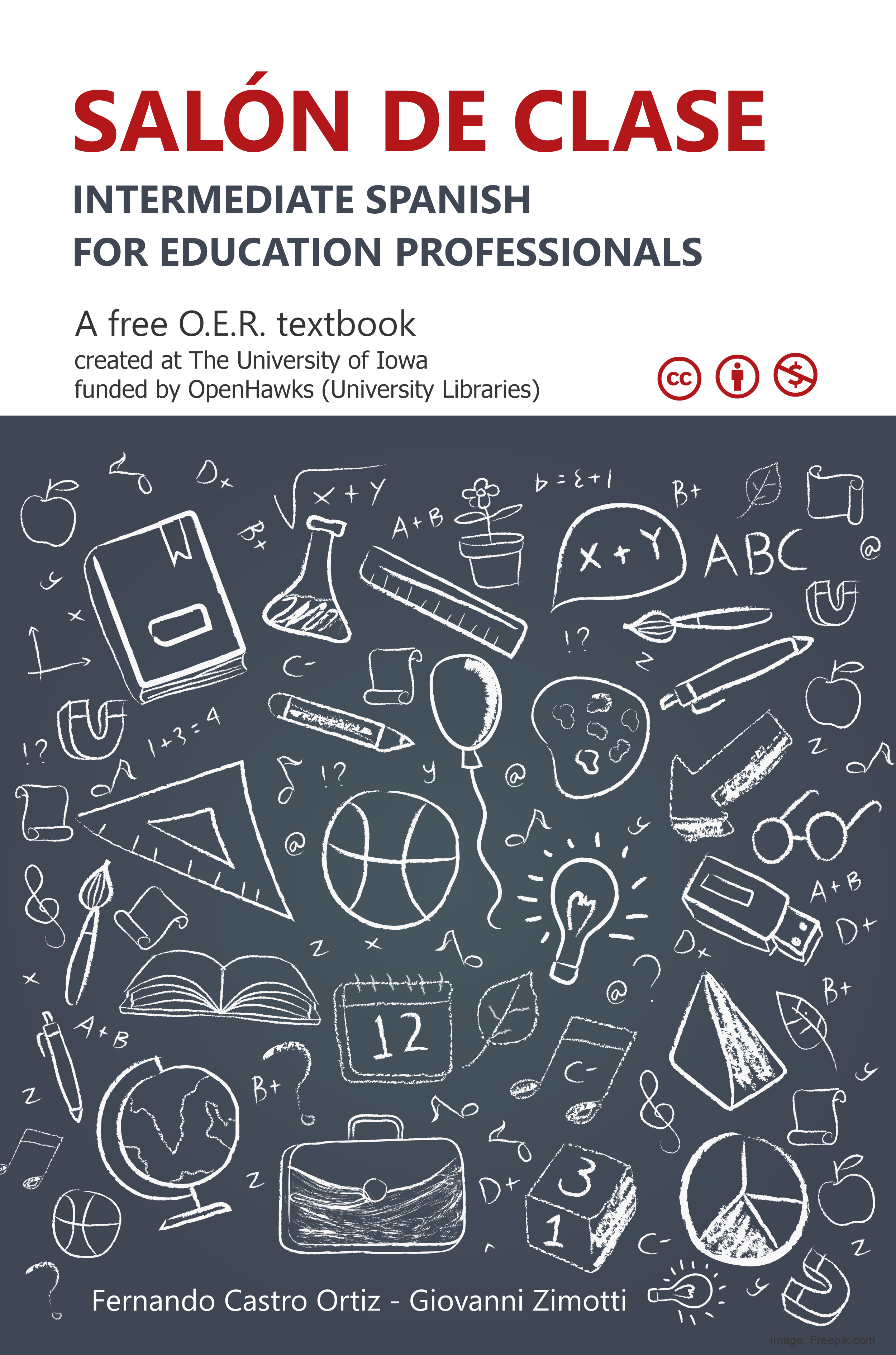 Salón de clase, Intermediate Spanish for Education Professionals (https://pressbooks.uiowa.edu/salondeclase/) is a comprehensive intermediate Spanish open access textbook with reading, listening, speaking, and writing practice for students who have an interest and/or intend to pursue a career in the field of Education (teachers, administrators, counselors, psychologists, social workers, support staff members, paraprofessionals, among others). This Open Education Resource (OER) aims to explore the role of Spanish language and Spanish speakers in the American education system, as well as to improve student communicative abilities in Spanish. This textbook was created in Pressbooks, a versatile platform that allowed us to integrate interactive activities (h5p), video interviews with Spanish speakers to present authentic materials, and topics related to education. Grammar is not presented as a standalone topic, but it is seemly integrated into all parts of this book.
To ensure that our textbook is diverse and inclusive we have done the following. We consulted with various voices to include inclusive language and images. We interviewed people with diverse backgrounds. Additionally, our videos include captions, and our infographics have a readable PDF version. To test the effectiveness of the materials created, Salón de clase has been tested in the classroom during three semesters and improved based on students' and instructors' feedbacks. This textbook underwent a rigorous review process that included professionals from more than 10 higher education organizations in the United States.
Fernando Castro Ortiz - Giovanni Zimotti
Available December 3, 2021 at 4:00 p.m. (CT)
Release event over Zoom at https://tinyurl.com/salonrelease
¿Por qué Salón de clase?
This OER textbook…
will replace expensive textbooks and relieve student expenses with its free content.
provides tailored content to suit the needs of 21st World Century students.
is easy to access online and provides the option to download content in pdf format.
includes a variety of multimedia and interactive authentic materials.
is committed to accessibility and provides materials that can be accessed by all students (videos with subtitles, alternative text for images) in any device (mobile-friendly).
is easily adaptable to the needs of each instructor.
$3600 saved per class per semester*

*Based on a class of 20 students and a textbook that costs $180